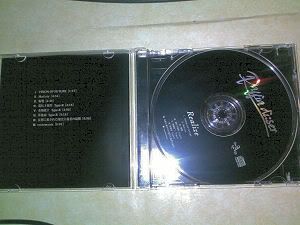 Genre: Alt Rock/Goth Rock
Released: September 9th, 2001
Region: Tochinoki, Japan
Label: Future Gate/Infinite Records
Catalog #: RAMR-0901
Format: CD
Bitrate: 320kbps
tracklist
01. VISION OF FUTURE
02. Mad cry
03. 輪廻
04. 遺伝子操作 Type-R
05. 薬物投下 Type-R
06. 夢遊病 Type-R
07. 妄想に犯された現実主義者の最期
08. erotomania
When I buy CDs like these I never know what to expect because I like to be pleasantly surprised, and I was with this CD. Poppy, sorta gothy rock with almost dance-like electronic elements and a prominent "
visual kei
" flare, with eccentric vocals and high-pitched screeches everywhere. Lots of awesome songs on this disc and, seeing as this is one of their only releases, lots of missed potential.
All the tracks were written & composed by the vocalist, who also seemed to be the owner of their label.
Bought it off a visual kei merch trader.