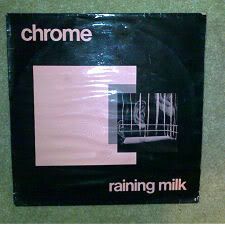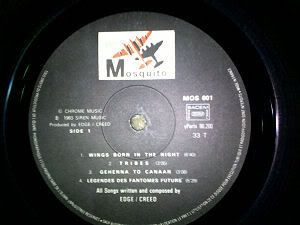 Genre: Experimental/Goth Rock
Released: 1983
Region: Long Beach, CA
Label: Mosquito Records
Catalog #: MOS-001
Format: 12" album
Bitrate: 320 kbps
tracklist
A1. Wings Born in the Night
A2. Raining Milk
A3. Anorexic Sacrifice
A4. La Légende Des Sentences Du Futur
B1. Wings Born In The Night
B2. Gehenna To Canaan
B3. Tribes (Ultra)
B4. Gehenna Lion
Not the best album by them, not by a LONG shot(
it's practically a compilation of tracks from a previous album with an extra thrown in,
) but even though they're fairly well known if you do your homework, they're definitely underrated as hell and deserved far more credit than they got.
Highly recommended if "
experimental post-punk with elements of industrial, goth and electronica
" sounds like it'd be your thing.
This rip isn't the best, and the songs are pitched up slightly from their original versions on this release so it's a slightly different experience, but I think it's a good starter piece for anyone curious about 'em.
Bought it from a local music shop.