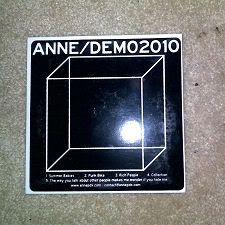 Genre: Shoegaze/Dreampop
Released: 2010
Region: Portland, OR
Label: Self-Released
Catalog #: N/A
Format: CD
Bitrate: 320 kbps
tracklist
01.
Summer Babies
02. Punk Bike
03. Rich People
04. Collection
05. The way you talk about other people makes me wonder if you hate me
More from the super awesome, brand new 'gazer/dreampoppy band Anne from Oregon.
This release features what are EASILY their best songs so far, IMO, and the first track got
a video made for it
.
Bought from the band.