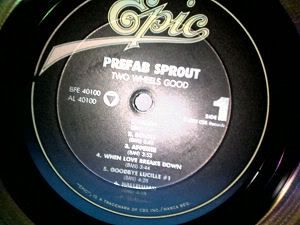 Genre: Pop Rock/New Wave
Released: June, 1985
Region: Durham, England
Label: Kitchenware
Catalog #: BFE-40100
Format: 12" LP
Bitrate: 320 kbps
tracklist
A1. Faron
A2.
Bonny
A3.
Appetite
A4. When Love Breaks Down
A5. Goodbye Lucille #1
A6. Hallelujah
B1. Moving The River
B2. Horsin' Around
B3. Desire As
B4. Blueberry Pies
B5. When The Angels
More from the unique pop rock band Prefab Sprout, this time the full album that the previously posted single came from. This was their second album and it was produced by the great Thomas Dolby.
This is the US release, the original UK release was called "Steve McQueen" and track 1 on the UK version is titled "Faron Young" - the name changes were due to copyright issues in the US. Feel free to change them to their actual titles, I just kept them this way for authenticity.
Bought from a local shop.