(Tokyo YANKEES - Ghostrider)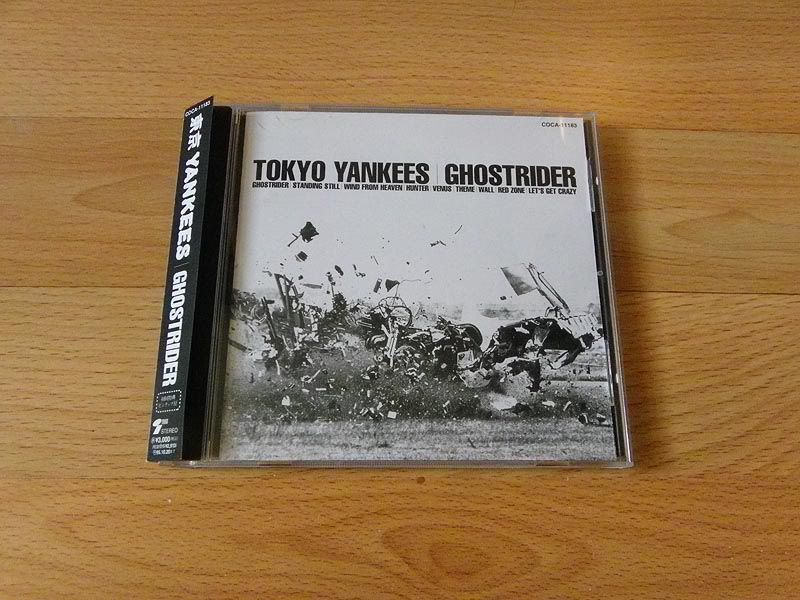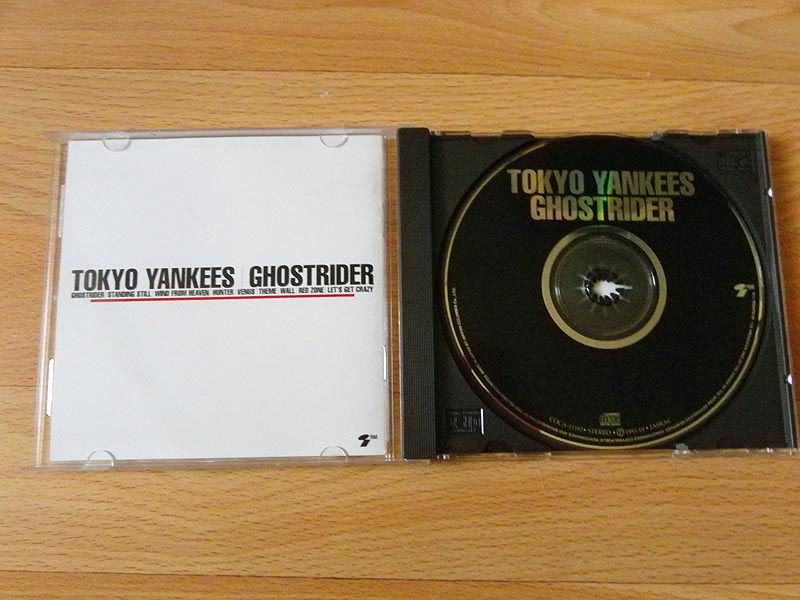 Genre: Punk/Heavy Metal
Released: October 21st, 1993
Region: Kyushu, Japan
Label: Triad/Nippon Crown
Catalog #: COCA-11183
Format: CD
tracklist
01.
GHOSTRIDER
02. STANDING STILL
03.
WIND FROM HEAVEN
04. HUNTER
05. VENUS
06. THEME
07. WALL
08. RED ZONE
09. LET'S GET CRAZY
Here's a fantastic Tokyo Yankees album submitted by James!
He's also done an informative write-up on these guys just for this post ...
Tokyo Yankees can be considered to Motorhead what Balzac are to The Misfits (minus the same level of success); a tribute band without actually playing cover songs, but to say that would be to frankly discredit both bands' abilities (though Tokyo Yankees have covered Ace of Spades and Overkill, while Balzac also has a Misfits tribute act, but I digress). Originally X Japan's roadies, Tokyo Yankees contrasted sharply to X Japan's fast-beating songs on sex and gentle but powerful ballads with grunting, heavier riffs and delirious drum beats in fashionably more typical rock 'n' roll songs.
Their unusual look had the bad boy leather-donned stylings of Motorhead but with all the pretty-facedness and fountain hair of early visual kei bands, a definite juxstaposition and most likely something just to fill a quota, they look glam but their sound is definitely metal with some hardcore punk influences. Tokyo Yankees originally formed in 1988 with Hiyori on vocals, who would later go on to front Youthquake before 1990, in which Soichiro "Ume" Umemura would take over as permanent singer, their line-up would stay the same for most of their career (first guitarist Tohda played for as long as Hiyori sang and Ami played on bass from 1988 to 1996, making some guest appearances in recent live shows).
One single, four albums and one compilation album were released over six years before the band went on hiatus, later reforming in 2000 to contribute an entirely new song exclusively for the History of EXTASY - 15th Anniversay omnibus CD, before releasing a brand new album in 2002 and their one and only EP in 2004, which has composed of cover songs of various western metal bands and remakes of two of their old songs. There has been no new material since, and may not be any ever as Ume sadly passed in 2007, a DVD commenorating the band's 20th anniversary was released the following year featuring interviews and live footage.
Forever unstoppable and true to their cause despite never making it big, Tokyo Yankees still play many live shows with the remaining three current members covering the vocals (suddenly their tagline of "Extreme Noisy Rock 'n' Roll" just evokes further images of Extreme Noise Terror and that band's split vocal antics). Tokyo Yankees' relatively slim discography is something that I find appealing about them, as with most straight-up metal acts, one too many albums just becomes repetitious, and of their releases they all progress in overall quality very nicely; first album Do The Dirty is a little tough to swallow but listeners will find subsequent albums (especially this one) very pleasing with Ume's steadily improving vocals, thrashing guitar solos and an exotic mix of sampling going in well with their full volume sound.
Their songs are always entirely sung in (largely correct) English. Definitely not the best, or the most complex or the most unique band about there, but a sorely underrated Japanese act nonetheless who have not let anything stop them doing what they know best.