(Tokyo YANKEES - Overdoing)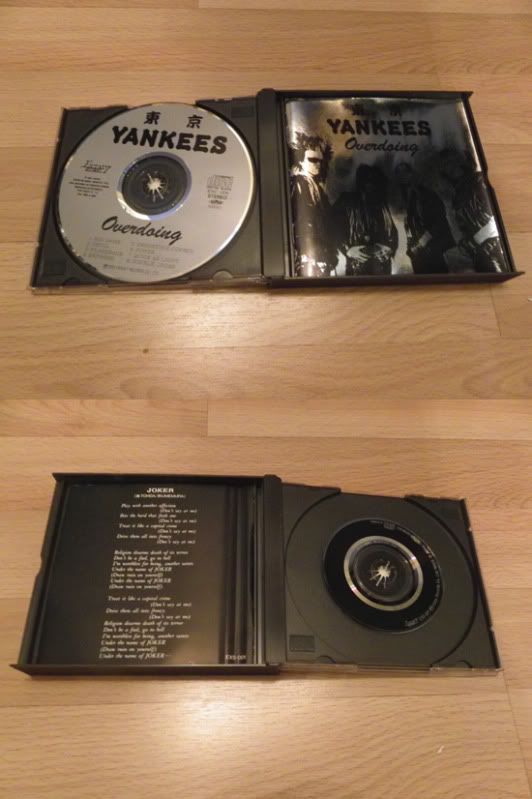 Genre: Punk/Heavy Metal
Released: October 1st, 1992
Region: Kyushu, Japan
Label: Extasy Records
Catalog #: EXC-009
Format: CD
tracklist
01. BIG GAME
02. DEVIL
03. FLASHBACK
04. EXPRESS
05. DRUGSTORE COWBOY
06. POWER
07. QUICK AS LIGHT
08. DOUBLE CROSS
09. JOKER
J's writeup:
Overdoing, compared to their first album, is much more ambitious, now the length of a more typical album, better songwriting and general improvements all round, the songs also vary more. A few voices of the old visual kei scene appear in choruses, most notably hide of X Japan, Pata also guests as guitarist in the song Drugstore Cowboy.
Most notable about the album is that it includes a mini-disc, this disc features a remake of their first and only single Joker, it sounds much more ferocious and is definitely a highlight. This album's booklet also ends with a special thank you...
"
Most of all, this album is dedicated to our following, some of the most punk, hardcore, or hardrockalike people we have ever met. We love to live the worst life in this gloomy society. We must live by the different laws. Who cares? Who will scold us? We find that we're doing all those things you would not have done without rhyme or reason. Do you envy or curse us? The past we made may be forgotten, but it never dies. Your feelings are free-for-all everyday, and our dramatic potential of sound that's helped by you is unknown. SO PLAY THIS LOUD, LOUD, LOUD as LOUD as the speakers and you can bear!! Everybody shout for joy and pain. Hope to invite you to another heaven. Good luck...
"