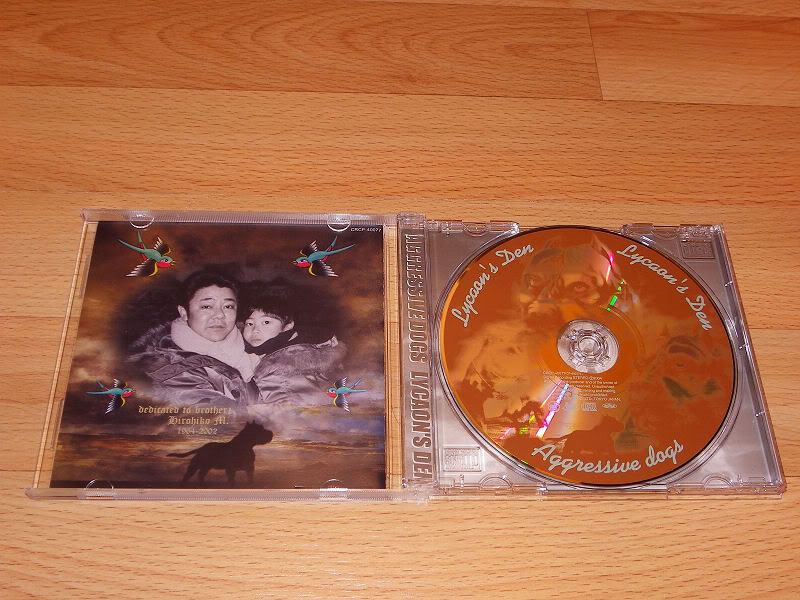 Genre: Punk/Metal
Released: August 25th, 2004
Region: Kyushu, Japan
Label: Nippon Crown
Catalog #: CRCP-40077
Format: CD
tracklist
01. LYCAON "大和魂" STYLE (feat.エンセン井上)
02. Lycaon's Den
03. 綾斗
04.
Rain (9F9D)
05. FREE YOUR MIND(feat.Fumio Ito,RYOJI,タケムラアキラ)
06. Keep The Pride With My Crew
07.
Bullet (Bullet Catchers) feat. Q
08. SIEGE(feat.JULYFORCE,aka,KEN-ONE)
09. Face To Yourself
10. Unbreakable Wall
11. 9F9D (Rain)
12. Lycaon Style
13. Tap Out II
14. Reckless feat.藤沼伸一
15. All Of My Strength (I'm/I can)
16. Quietus feat. Jun-ya
17. Chapter III
18. Rain (Camille Waters Remix)
19. Ghost Remains
20. Raging Storm
21. 無法松
22. Nerve feat. Kō
23. 小倉太鼓
More great AD from James!
Compared to the last Aggressive Dogs album I submitted you would think this is an entirely different band; if roughly translated articles are to be believed, AxDx never changed its line-up over the years, it instead only brought in two new guitarists (giving them three overall). This album is a varied mix of spoken word tracks, brief instrumentals, very raw vocals, hardcore, gangster rap and guest vocalists, plenty of styles are utilised overall but the general theme of street gangsters is present throughout.
Plenty of Engrish abounds, making efforts like this a little laughable at first but the Dogs are totally serious and loyal to their work. The only major downside to this album is how the production values are not great, everything just seems to hurt a little when played at full volume with earphones on, other than that though it's still a very interesting and hot-blooded listen. This album is dedicated to either a relative or friend of lead singer Uzi-One, the theme of family and brotherhood being a key theme among recent Aggressive Dogs material.